KEENE Peter et PIET.SO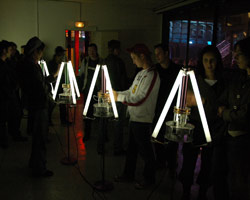 .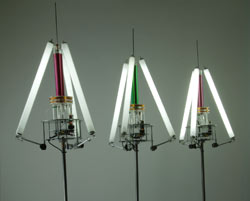 « Radio Tesla » de Peter Keene.
An intelligent environnement, sensitive to the public's presence, created by reels of Tesla which utter tensions towards another receiving central reel, the whole working as a Thérémin (monophonic instrument invented by Léon Thérémin) with several voices.

« Paysage sonore » de Peter Keene et Sophie Piet.So
This installation invites the audience to play the «communicating car». Two electronical vehicules (one seat each) self-driven, equiped with a periscope allowing a selected sight, drive you into a sonorous appartment.