ROBOT ERECTUS
ROBOT ERECTUS (SAPIENS) >> CREATION OF AN INTERACTIVE MOBILE, DANCE, MUSIC AND VIDEO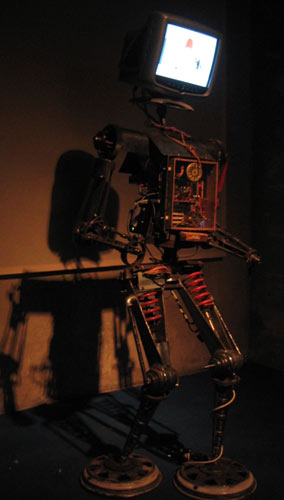 This mobile, a robot equipped with a screen and ultrasounds sensors is programmed by the software Pure Data. According to the presence and the behavior of the observer It generates images of a moving body.
It is installed in public places and reacts to the music. It attracts, disturbs and invites the spectator to a dance. The Sapiens Robot is a project in continuous motion which questions our ambiguous relation with the desire and with the machine which satisfies it.
Equip with artistic realization: Le Hublot à Nice
Programming: Frederic Alemany/ Photographs, video: Katia Beltrand/Sculpture: Alain Biette and Frederic Piraino/ Music creation: Jean Philippe Poutier/Body and dance: Inga Sterner.